Is this the covenant with Israel of Daniel chapter nine and what does it mean?
Is Trump the Anti-Christ?
This week President Donald Trump and Prime Minister of Israel, Benjamin Netanyahu, publicly presented a long awaited peace proposal. This plan would hopefully offer a lasting peace between Israel and Palestine as it creates a possible path for a two state solution. The Israeli's have lauded this plan as a breakthrough but the Palestinians have publicly rejected it and mocked it — which is no surprise.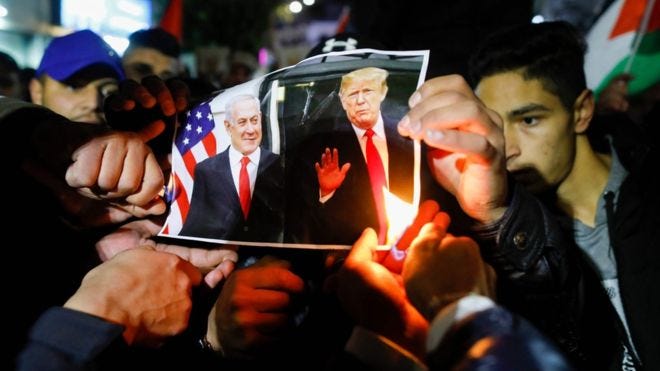 Since the hour it was announced I have been getting questions from family members and friends about what I think of it and if I believe it has prophetic implications. I have especially been asked if I believe President Trump is the Anti-christ and if this is the covenant mentioned in Daniel chapter nine that would begin the Tribulation.
First of all, Israel has never had a better friend than President Trump and they know it. He moved the U.S. Embassy to Jerusalem, recognized their right to the Golan Heights and much more. Also, President Trump has been the most pro-Christian and pro-church rights president of my lifetime. I see nothing about him that would signify he has the potential of being the Anti-christ.
Also, I don't believe this proposed peace plan is the covenant of Daniel chapter nine, but I believe it is a first draft. President Trump's peace plan is very specific and even offers the possibility of the Palestinians getting a part of East Jerusalem for their capital. This is truly unbelievable because the Jews have stated repeatedly and emphatically that Jerusalem is the eternal, indivisible capital of Israel. The fact that Prime Minister Netanyahu and the Jewish people would be open to dividing it is truly amazing and definitely has end times significance.
The Current Peace Plan Has Problems
I'm not sure how long it will take for this peace plan to evolve into the Daniel chapter nine seven-year covenant. It could take a matter of months or it could be years. But, there are a couple of major problems I see with this current plan. The first is that it offers no solution for the Temple Mount and giving the Jews an opportunity to rebuild their Temple. Also, the plan conditions that Palestine cannot become a state until they renounce terrorism.
This is a major problem because the Palestinians are controlled by two terrorist groups, Hamas and Hezbollah. Both are proxies for Iran and take their orders from Tehran. There is no way Iran will allow for any significant change to occur that would lessen their control over Palestine or their ability to use it to launch attacks against Israel. If the Palestinians do agree to anything, they won't live true to it. They never have.
But one way or another, there is no doubt that at some point in the not so distant future, there is going to be a peace plan that is agreed to by Israel and the Palestinians and is confirmed by the Anti-christ for the final seven years of this age. And there is also no doubt, according to Revelation chapter eleven, that this agreement will allow the Jews to rebuild their Temple and give control of part of Jerusalem to the Palestinians.
But there is another perspective concerning this plan that I want to talk about. It is God's perspective. He hates it and will also hate the final draft of it that will include the Anti-christ. And here is one important Scripture text that proves how He feels about it:
For behold, in those days and at that time, When I bring back the captives of Judah and Jerusalem, 2 I will also gather all nations, And bring them down to the Valley of Jehoshaphat; And I will enter into judgment with them there On account of My people, My heritage Israel, Whom they have scattered among the nations; They have also divided up My land. Joel 3:1-2 NKJV (bold mine)
This is an end times prophecy where God is talking about the final years when He regathers Israel from the nations (fulfilled in 1948) and in the same period of time He will judge the nations for their mistreatment of the Jews and for dividing up HIS LAND! The land of Israel belongs to God first and not a man. And He is jealous for it and furious that it is being divided.
A Mistake from the Beginning
The United States and the United Nations have been pressuring Israel to enter into a "land for peace" solution with the Palestinians for many years. And it has been a mistake and failure from the very beginning. As an example, in August of 2005 under the Bush administration, nearly 9,000 Israeli's were forced to leave their homes and farms in the Gaza Strip to accommodate a Palestinian takeover in a "land for peace" deal. The economic impact on Israel was devastating. Look at what the Gaza strip produced:
70% of Israel's organic produce
60% of the nations exported herbs
15% of its total agricultural exports
60% of its exported cherry tomato crop
$120,000,000 of its flower exports.
(source: http://www.lamblion.us/2011/01/god-judgment-and-weather-hurricane.html)
First of all, the land given to the Palestinians didn't produce peace and never will. Second, less than a week after the last of the Israeli's were forced out, Hurricane Katrina hit New Orleans with devastating loss of life and property. Immediately, Jewish Rabbi's began to proclaim that Hurricane Katrina was God's punishment on America for removing the Jews from their land.
Even though Presidents George W. Bush and Donald Trump both claim to be Christians and pro-Israel, they make a huge mistake pushing an agenda that causes Israel to give up land and divide Jerusalem. But because of Bible prophecy we all know the end of the story. The land of Israel is and will be divided and Jerusalem will ultimately be ground zero for a world war against the Jews which will usher in the Second Coming of Jesus.
So, this is my perspective of what is happening with President Trump's proposed peace plan. I believe President Trump is sincere in his desire to help Israel and the Jewish people. But because I have been a student of Bible prophesy for five decades, I cannot voice my support for any plan that defrauds the Jews of their homeland and disrespects God's ultimate ownership of the land of Israel.
Come Lord Jesus!